Explore Joost Vapor in Our Local Vape Shop in Standale, MI
STORE HOURS
Monday – 11:00am – 7:00pm
Tuesday – 11:00am – 7:00pm
Wednesday – 11:00am – 7:00pm
Thursday – 11:00am – 7:00pm
Friday – 11:00am – 7:00pm
Saturday – 11:00am – 7:00pm
Sunday – CLOSED
Explore Joost Vapor in Our Local Vape Shop in Standale, MI 
Visit Our Leading Local Vape Shops for All the Best Vaping and Smoking Products You Need.
The Joost Experience
Welcome to Joost Vapor's local vape store in Standale, MI. We're famous for our excellent range of the highest quality products and knowledgeable staff. Whether you're a vaping pro or are just beginning your vaping journey, we're here to help you find what works for you within your budget. 
Joost Vapor is Michigan's largest independent vape manufacturer and retailer. We handcraft our own signature e-liquids in exciting flavors for a premium vaping experience.
Our 11 stores across Michigan supply our valued customers with the best vape juices, e-cigarettes, vape pens, mods, disposables, parts, accessories, pods, vape wholesale, and much more. 
Get in touch or stop by our fully-stocked vape and smoke store in Standale to find out how you can level up your vaping setup. 
[
Contact Us
]
Signature Safe
How was your current e-liquid made? If you don't know, then maybe it's time to change to something more trustworthy.
As Michigan's leading independent e-liquid manufacturer, we pride ourselves on crafting the best vape juice in the safest conditions. We only create the highest-quality e-liquids in our state-of-the-art ISO 1000 class 6 clean rooms. Get genuine products every time for great peace of mind from Joost.
Tobacco Coming Soon!
We have an exciting announcement to make!
Soon we will be offering you an incredible range of top-quality tobacco products to try. Joost Vapor will be your comprehensive smoke shop in Standale, Michigan. 
Easy Curbside Pick Up
Step 1: Order
Browse our vape menu and call (616) 805-4475 to place your order. We'll get it ready for you.
Step 2: Pick Up
Swing by our Standale vape store on Lake Michigan Dr to collect.
Step 3: Pay
Pay upon collection via any popular payment method.
Choose Joost Vapor
Joost Vapor has been supplying the residents and visitors of Michigan with premium vaping and smoking products since 2013. As Michigan's largest independent e-liquid manufacturer and vape retailer, you know you're getting the quality you deserve.
Our unbeatable service and extensive knowledge offer our customers the best experience. Check out our Standale vape store Google reviews.
Store Location
Come and visit our friendly and knowledgeable staff and browse our premium vape products in our local vape shops.
Address: Joost Vapor, 4515 Lake Michigan Dr., Grand Rapids, 49534
Call: (616) 805-4475
Email: customerservice@joostvapor.com
Store hours: Monday - Saturday 11 am - 7 pm Sunday closed
Find us: Facebook, Twitter, Google Plus, Pinterest, and Reddit
Joost Vapor Pricing
Make the most of our competitive rates and discounts on the best vaping and smoking products of any local vape shop. Don't settle for overpriced e-liquids and poor-quality vapes. Our products will offer the best value performance and smoking satisfaction.
Get unbeatable exclusive offers and promos by signing up to our Joost Vapor Gold Club!
Discover the World of Joost Vapor
Visit our helpful and professional staff in our Standale vape store for the best insider knowledge of all things smoke and vape. Try exciting new products in our local vape shops and let us optimize your current setup.  
Find out how you can get the best value premium vaping experience with Joost Vapor.
[
Visit Us
]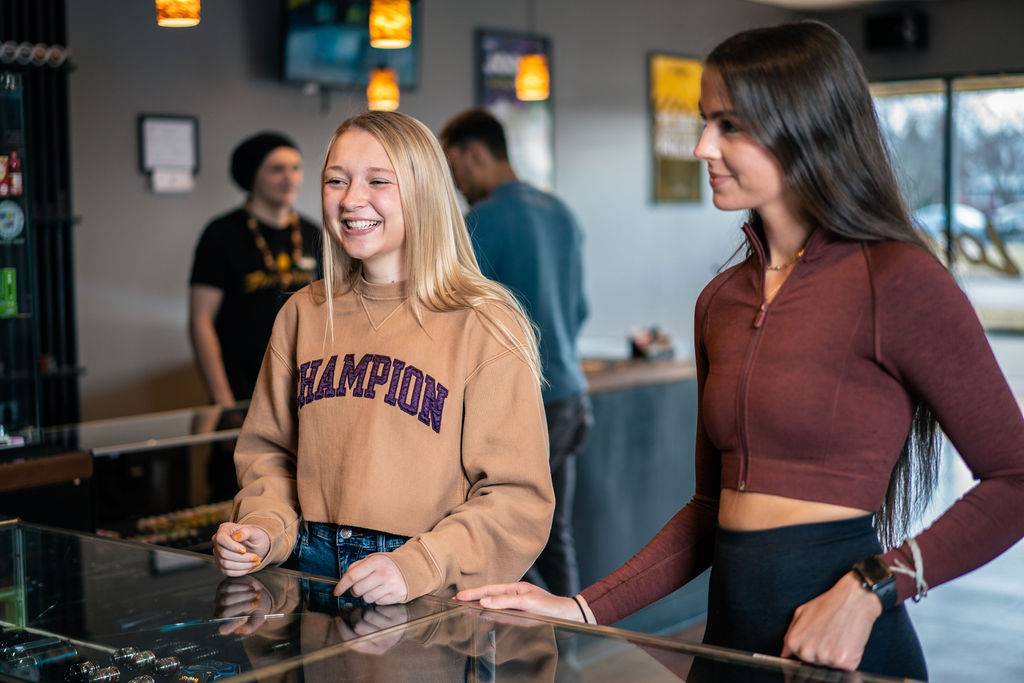 ---
The staff is great. They always have an answer for your questions and are always very welcoming when you walk in. There products have been nothing but great everytime I have bought somthing!

Anthony - Google Review on Joost Vapor Standale
---
Joost Standale is by far my favorite place to get my juice, and vape accessories. Between the wonderful staff and quality, cost-friendly product, you'd be hard-pressed to find a more comfortable shopping experience.

Abe - Google Review on Joost Vapor Standale