STORE HOURS
Monday – 11:00am – 7:00pm
Tuesday – 11:00am – 7:00pm
Wednesday – 11:00am – 7:00pm
Thursday – 11:00am – 7:00pm
Friday – 11:00am – 7:00pm
Saturday – 11:00am – 7:00pm
Sunday – CLOSED
Shop At Our Vape Store in Michigan for Quality Vape Products
Joost Vapor is a vape store in Michigan that has e-cigarettes, e-liquid, and other vape products available. Get all your vaping needs from one smoke shop.
[Contact Us Now]
What Is Joost Vapor?
Joost Vapor is a premium vapor company and the largest independent vape shop in Michigan. We are a leading vape manufacturer and vape retailer with quality vape items such as e-liquid, e-cigarettes, and e-cigs starter kits including mods, tanks, batteries, and more rebuildables.
Joost Vapor has been around since 2013 selling premium vape products to those in need and currently has 11 Michigan vape shops in convenient locations.
Tobacco Products Are Coming Soon
While we currently don't sell tobacco products, they will be coming soon since the market is changing, and therefore, we will be expanding our line of products to keep up with the changes. Of course, we will still carry all of our vapor products, but we need to stay relevant in the industry, which means transitioning our stores to tobacco stores. June is the planned launch date for our first store to be fully transitioned. Expect a 2-3 month gap in between releases thereafter until all 11 of our stores are converted.
How Our Curbside Pickup Works
At Joost Vapor, we consider your convenience when shopping with us. That's why we offer you multiple ways to purchase your items. You can either shop online, visit one of our Michigan vape stores, or both. Choose what you would like to purchase online and call us to place an order, then you can either pick your order up inside the store or choose our convenient curbside pickup between the hours of 11 am and 7 pm, Monday through Saturday (Closed Sunday). Here's how it works:
Step 1: Place An Order
Call the location where you would like to pick up your purchases and place your order. We will get your order ready and have it available for you to pick up ahead of time.
Step 2: Pick Up Your Order
Visit the location of your pickup and we will bring your order out to your car.
Get The Best Quality At Competitive Pricing
Joost Vapor is known for our quality products. When you shop with us, you can believe you are getting the best value for your money since we offer quality products at competitive pricing at all our store locations in Michigan. We are also dedicated to providing our customers with the best service and will answer any of your vape-related questions promptly.
30/60 Buy Back Guarantee 
Joost Vapor is committed to providing the best customer service and shopping experience possible for all our customers to enjoy and we always put your safety first. That's why we manufacture our e-liquid products in state-of-the-art class 6 ISO 1000 clean rooms and also currently offer a 30/60 buyback guarantee. Talk to one of our friendly sales reps to learn more.
[Contact Us Now]
Visit Our Michigan Vape Shops for All Your Vaping Needs
Consider our Holland, Michigan vape store as your one-stop shop for all your vaping needs. Visit any of our Michigan locations to get quality vape products.
[Shop Now]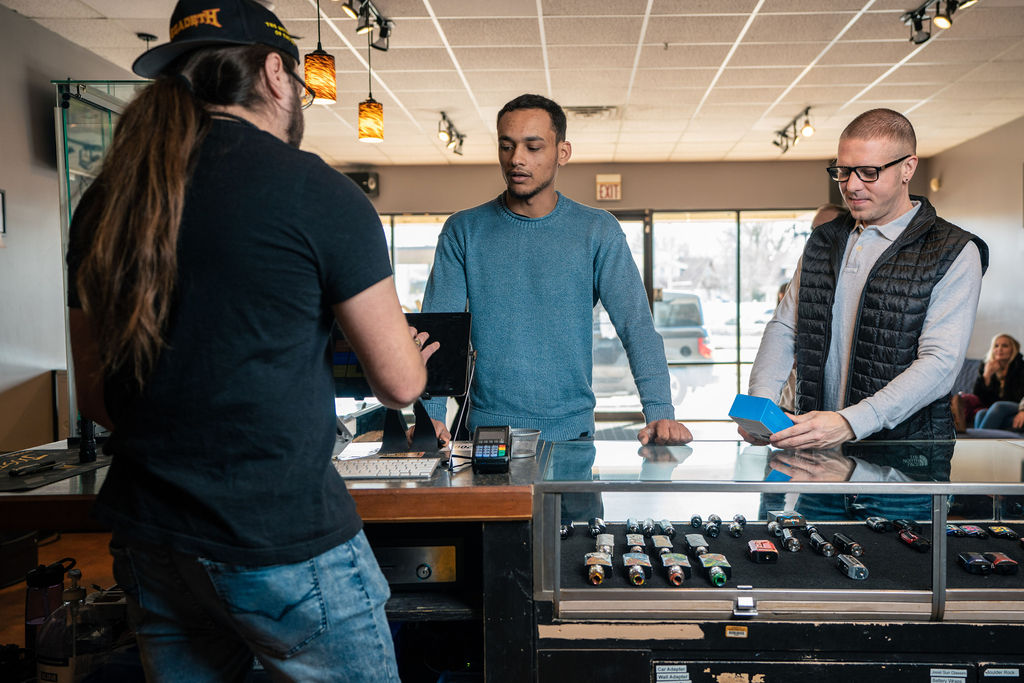 ---
Best vape shop in town. The employees are super chill but know what they're talking about. It's a relaxed atmosphere and they have their own juices as well as customizable juices. They also have a sweet rewards system setup. Definitely a fan.

Zombri - Google Review on Joost Vapor Holland
---
This is the ONLY place I find juice I like! And it's almost always in stock! People are so nice and friendly and help you with anything you buy!

Mindy - Google Review on Joost Vapor Holland