Your Favourite Joost Vapor E Liquids: Kalamazoo Grand Rapids
STORE HOURS
Monday – 11:00am – 7:00pm
Tuesday – 11:00am – 7:00pm
Wednesday – 11:00am – 7:00pm
Thursday – 11:00am – 7:00pm
Friday – 11:00am – 7:00pm
Saturday – 11:00am – 7:00pm
Sunday – CLOSED
Your Favorite Joost Vapor E Liquids: Kalamazoo Grand Rapids
Your Local Vape Store Stocking the Widest Variety of Your Favorite E Liquids From Joost Vapor and More.
More Than Joost
Welcome to our Joost Vapor Kalamazoo store in Grand Rapids. One of our many Grand Rapids locations to make it easy and convenient to get your regular supply of premium vaping products. 
We pride ourselves in offering the residents and visitors of Michigan the ultimate supply of vaping and smoking products. As the largest independent e-liquid manufacturer in Michigan, you know you're getting the best quality.
Our 11 stores across Michigan offer everything you need for the best vaping experience. From the latest models of vape pens to parts and accessories for mods to disposables and pods. 
Contact us or visit our Kalamazoo store in Grand Rapids and chat with our friendly team. We can help you get started in your vaping journey, or give you insider tips on how to optimize your current vaping setup.
[
Get in Touch
]
Vape Safe
At Joost Vapor, we never outsource and rebrand our e-liquid like other companies. We're passionate about vaping and wanted to create an epic e liquid for our customers in a safe environment.
Our e liquids are always manufactured in our state-of-the-art ISO 1000 class 6 clean rooms. We want to offer you the best quality e liquids and products so you can relax and enjoy them the way they are meant to be.
Tobacco Coming Soon!
You asked, we listened. We are excited to announce that we will soon be stocking a hand-picked selection of quality tobacco for your to enjoy!
Coming soon to your local Joost Vapor vape store. 
Curbside Collection
Step 1: Order
Call (616) 803-5362, place your order, and our team will get it ready.
Step 2: Pick Up
Collect your order from our Kalamazoo Ave store in Grand Rapids.
Step 3: Pay
Pay on pick-up with a variety of payment methods. 
Why Choose Joost
Since 2013 we have been supplying Michigan residents with our carefully crafted unique e liquid range. Over the years we have become known for providing limitless customer service and extensive knowledge in the world of vaping. 
Our loyal and valued customers love our products so much, they rate us 5 stars. We listen to our customer's wants and needs, so we're looking forward to offering an even wider range of products and tobacco very soon!
Store Location
Our expert team in our Kalamazoo store looks forward to your visit.
Address: Joost Vapor, 6750 Kalamazoo Ave., SE Grand Rapids, MI 49508
Call: (616) 803-5362
Email: customerservice@joostvapor.com
Store hours: Monday - Saturday 11 am - 7 pm Sunday closed
Find us: Facebook, Twitter, Google Plus, Pinterest, and Reddit
Joost Vapor Pricing
Get great value vaping products in our Kalamazoo Grand Rapids store, and all our other locations in Michigan. We provide competitive prices on our signature e-liquids, vape wholesale as well as electronic cigarette starter kits, tanks, mods, batteries, and more.
Join the Joost Vapor Gold Club to get exclusive offers and promos!
Visit Our Kalamazoo Vape Shop in Grand Rapids
There's more to vaping than you may think! Get in touch or visit our team in Kalamazoo for great deals on our wide range of e liquids and vaping products.
Discover how you could improve your vaping experience with Joost Vapor.
[
Check Us Out]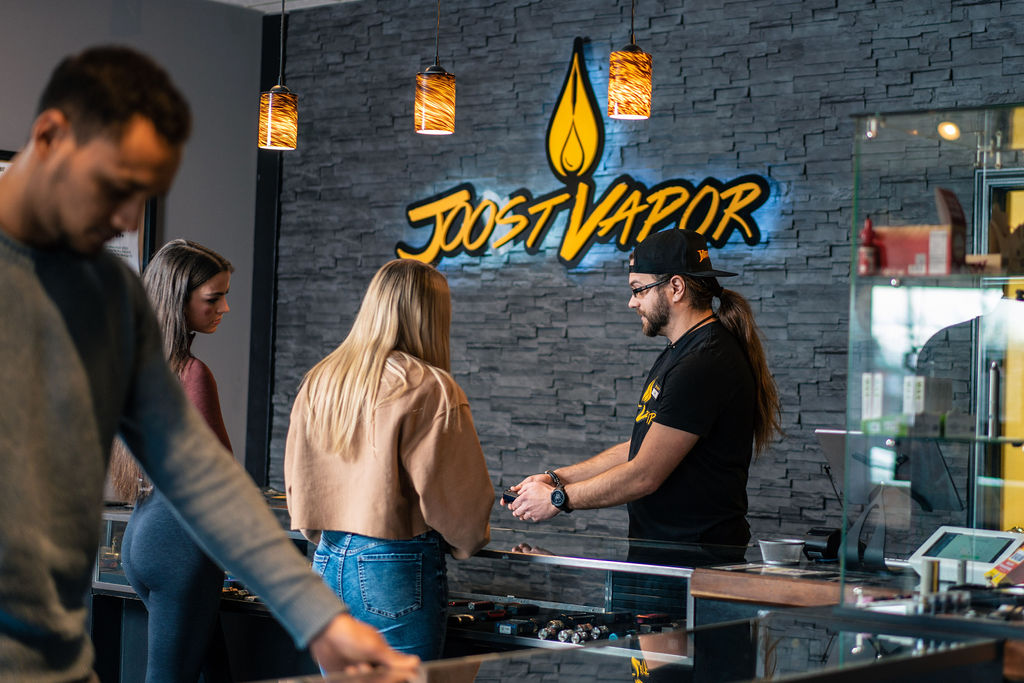 ---
I just love the staff here. They are so helpful and willing to take the time to explain thing. I appreciate them. Every single time I go in. It's a wonderful experience every time.

Sarah - Google Review on Joost Vapor Kalamazoo
---
My first adventure with Joost in this location was July 5th 2021. I wanted to get away from cigarettes. I went in blind and the girl behind the counter walked me through the different mods and what nicotine levels I would need to get into based on how much and how often I smoked. I was very pleased. My second adventure began tonight 1-22-22. My mod died out of the blue and I went to get a new one. Walked in explained it to the manager working and the first thing he did was attempt to fix my mod, not push a new sale. That alone is impressive. After it didn't work he then broke down all the mods he had that he enjoyed and ones he thought I would enjoy based on my failed mod. I picked one and the coils which he suggested and a new flavor of juice. The staff of this store puts in the work, they know their product and if you let them do their thing you walk out confident in your purchase. I will always return to this store for my vaping needs. Thank you all!

Joshua - Google Review on Joost Vapor Kalamazoo