Enjoy Michigan's Leading Vape Juice Brand in Grand Rapids
STORE HOURS
Monday – 11:00am – 7:00pm
Tuesday – 11:00am – 7:00pm
Wednesday – 11:00am – 7:00pm
Thursday – 11:00am – 7:00pm
Friday – 11:00am – 7:00pm
Saturday – 11:00am – 7:00pm
Sunday – CLOSED
Enjoy Michigan's Leading Vape Juice Brand in Grand Rapids
Discover the World of Joost Vape - Michigans's Leading Vape Shop, Grand Rapids.
The Best E-Liquids
This is Joost Vapor, Fuller Ave, Grand Rapids. If you're searching for the ultimate vape juice brands, look no further. Joost Vapor is the largest independent manufacturer of the highest quality e-liquids in Michigan.
Visit one of our 11 stores across Michigan to experience the unique and exciting world of Joost Vapor e-liquids, vaping, and smoking products. We stock everything you need from the most popular classics to the latest innovations in vaporizers, vape juices, accessories, and more.
If you're new to the realm of vaping, we're here to offer the perfect device, e-liquid, and nicotine concentration that suits you. Our teams of experienced technicians know their stuff when it comes to custom mods for all you vaping pros out there.
Get in touch or stop by our store on Fuller Ave, Grand Rapids to check out our stock.
[
Contact Us
]
State-Of-The-Art Manufacturing
Do you know how your e-liquids are made? Many brands source their liquids from less than reputable sources. Joost Vape e-liquids are only ever manufactured in our state-of-the-art ISO 1000 class 6 clean rooms.
You can enjoy the incredible taste of our e-liquids knowing that our products are expertly crafted in the safest conditions. You can trust us to be your reliable quality vape shop in Michigan every time.
Tobacco Coming Soon!
We are excited to bring our customers something new!
Soon we will also be offering our customers an amazing variety of high-quality tobacco products to try. We are soon to be your full-service smoke shop in Fuller, Grand Rapids, Michigan.
Curbside Pick Up
Step 1: Order
Call (616) 279-3787, place your order, and our staff will prep it for you.
Step 2: Pick Up
Pull up outside our Fuller Ave store in Grand Rapids to collect your order.
Step 3: Pay
We accept the popular methods of payment when you pick up.
Top Rated
Our valued customers in Michigan rate us 5 stars for our unbeatable customer service and quality products. We have been supplying professionally crafted e-liquids in a wide variety of unique flavors since 2013.
Our passion is to innovate and expand our range of products to meet our customers' demands. We forward to offering you new exciting tobacco products very soon!
Store Location
Stop by to chat with our knowledgeable staff and check out our premium vape products.
Address: Joost Vapor, 1215 Fuller Ave., NE Grand Rapids, MI 49505
Call: (616) 279-3787
Email: customerservice@joostvapor.com
Store hours: Monday - Saturday 11 am - 7 pm Sunday closed
Find us: Facebook, Twitter, Google Plus, Pinterest, and Reddit
Joost Vapor Pricing
Enjoy great deals on our quality e-liquids and a wide variety of vaporizers, e-cigarettes, mods, and much more. We never overprice our products. We maintain a great value menu of high-quality products for our customers.
Join the Joost Vapor Gold Club to get exclusive offers and promos!
Your Choice Vape Shop in Michigan
Drop into our store on Fuller Ave, Grand Rapids, and chat with our friendly staff about our quality vape juice brands and more. We look forward to answering your questions and offering helpful advice. Expand your the world of vaping with Joost Vapor.
[
Visit Today
]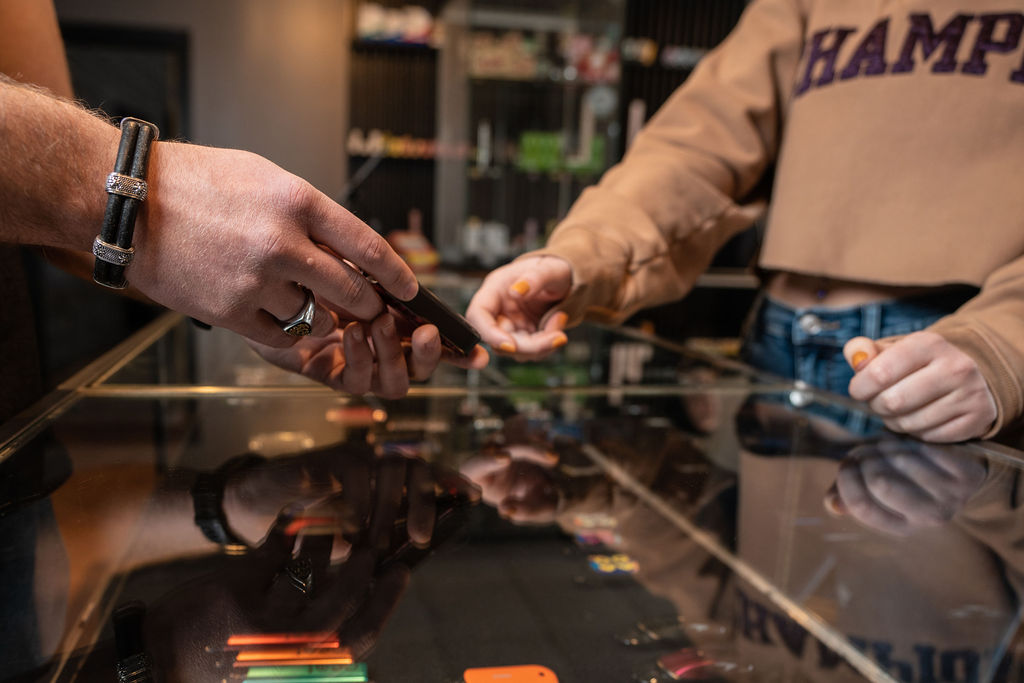 ---
This is my "GO TO" location. Anything and everything from coils, questions, repairs, juices, and so on. I have several other Vape shops that are either closer or within the same distance (I live in Downtown GR), but I choose to go here. The staff is friendly, upfront, knowledgeable, and willing to help out in any way they can. Also, their honors/points program is great! Thank you!

Jarrod - Google Review on Joost Vapor Fuller
---
Excellent customer service each and every time I go in, very knowledgeable staff, fun and friendly. .. not to mention great flavors and they keep you coming back with discounts and free gifts.. best store in town hands down...

Luter - Google Review on Joost Vapor Fuller