Explore Our Premium Vaporizer Store in Alpine Grand Rapids
STORE HOURS
Monday – 11:00am – 7:00pm
Tuesday – 11:00am – 7:00pm
Wednesday – 11:00am – 7:00pm
Thursday – 11:00am – 7:00pm
Friday – 11:00am – 7:00pm
Saturday – 11:00am – 7:00pm
Sunday – CLOSED
Explore Our Premium Vaporizer Store in Alpine Grand Rapids
Find Everything You Need for the Best Vaping Experience in Michigan With Joost Vapor.
Leading Michigan Vape Store
Here in our NW Grand Rapids location, we provide you with your favorite vaping products from Joost Vapor and much more. We are stocked with all the latest and greatest vape juices, mods, parts, accessories, vape pens, vape wholesale on mod fuel, and everything you need for the best vaping experience. 
Our friendly and knowledgeable staff look forward to helping you discover your perfect vaping configuration whether you're a cloud-chaser or want to quit cigarettes. We'll provide you with everything you need within your budget.
Get in touch or visit us in our Alpine Avenue vape shop in Grand Rapids. We can help you get started in your vaping journey, or give you insider tips on the latest vaping trends and products.
[
Contact Us
]
Independent Manufacturer
Do you really know where your vape juice comes from? At Joost Vapor, we professionally craft our own high-quality e-liquids so you know what you're vaping. We're passionate about providing our valued customers only the very best genuine products.
Our e-liquids are always manufactured by expert technicians in our state-of-the-art ISO 1000 class 6 clean rooms. Enjoy peace of mind knowing you can trust Joost Vapor every time.
Tobacco Coming Soon!
We are excited to announce that Joost Vapor is soon to become your local fully-stocked smoke shop!
Watch this space as we will introduce an exciting line of tobacco products for you to try.
Coming soon to your local Joost Vapor vape store in Michigan. 
Easy Curbside Pick Up
Step 1: Order
Call (616) 551-2219, place your order, and we'll have it ready for you.
Step 2: Pick Up
Pick up your order from our Alpine Ave store in Grand Rapids.
Step 3: Pay
We accept common payment methods when you collect.
Why Joost Vapor
We are Michigan's largest independent premium vapor company and retailer of the best quality e-liquids. Since 2013, our expert technicians have crafted our unique range of products in the safest way. We enjoy creating unique and exciting flavors to wow our fellow vapers.
Our valued customers rate us 5 stars for our unbeatable knowledge and expertise, customer service, and quality products. We aim to provide our customers with what they want which is why we're always expanding our range, soon to include tobacco! 
Store Location
Check out our Alpine vaporizer store and chat with our helpful and knowledgeable team.
Address: Joost Vapor, Alpine Ave., NW Grand Rapids, MI 49544
Call: (616) 551-2219
Email: customerservice@joostvapor.com
Store hours: Monday - Saturday 11 am - 7 pm Sunday closed
Find us: Facebook, Twitter, Google Plus, Pinterest, and Reddit
Joost Vapor Pricing
We supply you with the best quality vaping products at competitive prices. Get e-liquids, vape pens, mods, pods, and more at great rates so you can enjoy them again and again.
Sign up to the Joost Vapor Gold Club and enjoy exclusive offers and promos!
Your Premium Vaporizer Store
Find out how you can experience the ultimate quality vape with the assistance of our Joost Vapor team. We'll help you find the perfect setup and e-liquids for maximum enjoyment.  
[
Visit Us
]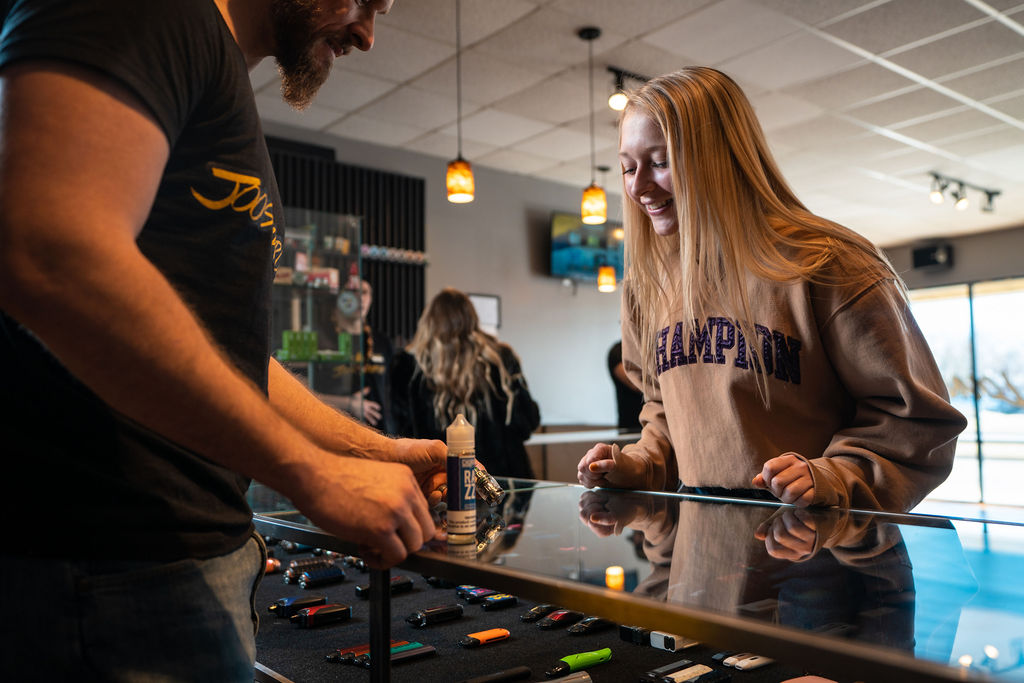 ---
Excellent shop! They have something for every budget and a huge selection of juice. The staff is super friendly and willing to go above and beyond to fit the needs of the customers. Love Joost vapor!!!

Robert - Google Review on Joost Vapor Alpine
---
Great store for all your vaping essentials. Polite, friendly, and knowledgeable staff. Very well lit clean-cut environment with a chill vibe. Great place for return business and/or starting out in the vaping world

Shawn - Google Review on Joost Vapor Alpine