Joost Vapor - Grand Rapids 54th Street
STORE HOURS
Monday – 11:00am – 7:00pm
Tuesday – 11:00am – 7:00pm
Wednesday – 11:00am – 7:00pm
Thursday – 11:00am – 7:00pm
Friday – 11:00am – 7:00pm
Saturday – 11:00am – 7:00pm
Sunday – CLOSED
Shop At Our Vape Shops for Quality Vape Products in Michigan
Shop at our vape shops for quality vape products in Western Michigan. We are your one-stop vaping shop for all your vape needs. Contact Joost Vapor to learn more.
[Contact Us Now]
Who We Are?
Joost Vapor is not only a vape manufacturer but we are also a vape retailer known as a premium vapor company since we offer high-quality vape products to those in the Western Michigan area. Thus, of all the independent vape shops in Michigan, we are the largest.
Our Michigan vape shops are the best source for premium vape products like e-cigarettes, e-liquid, and e-cigs starter kits including tanks, batteries, mods, and other rebuildables.
We have been serving the Western Michigan area since 2013 and currently have 11 vape stores in many convenient locations.
Coming Soon: Tobacco Products
Although we don't currently sell tobacco products, we will soon when we make the transitions to become a smoke shop. Because the markets are changing and we must stay relevant to the industry, we are expanding our product lines to go with the changes. Of course, we will continue to sell vape items, along with tobacco items as well. Our transitions will begin in June when we will change one vapor store at a time with a 2 to a 3-month gap between each release until all of our 11 stores are converted.
How to Place An Order for Pickup
Joost Vapor wants shopping with us to be convenient and pleasant. Therefore, we provide more than one way to make purchases: You can shop at our retail store, shop online, or both. To place an order for pickup, follow these three easy steps:
Step 1: Choose Your Items Online
Visit our online store where you can browse through our large inventory and choose the vaping products you want to purchase.
Step 2: Place Your Order
Call us to place your order or order online for pickup or delivery.
Step 3: Pay for Your Order and Pick It Up
Go to the store you chose that's near you to pay for your items and pick them up.
We also have curbside pickup you can use from Monday through Saturday from 11 am until 7 pm.
Our Products Are Competitively Priced
Joost Vapor is mainly known for providing quality products to Michigan residents at such affordable pricing that the value is unbeatable. We also provide great customer service that includes answering any vape-related questions you may have, promptly.
30/60 Buy Back Guarantee 
At Joost Vapor, we are committed to providing our customers with the best shopping experience and service possible. Thus, we ensure your safety by using class 6 ISO 1000 state-of-the-art cleanrooms to manufacture all of our e-liquid items. In addition, we offer a 30/60 buy back guarantee since we want you to be 100% satisfied with all our products. Contact a sales rep to find out more.
[Contact Us Now]
We Are Your Best Source for Vaping Supplies
Visit our vape store located on 54th Street in Grand Rapids, or another Joost Vape Shop in Michigan for quality vaping products at the best prices.
[Shop Now]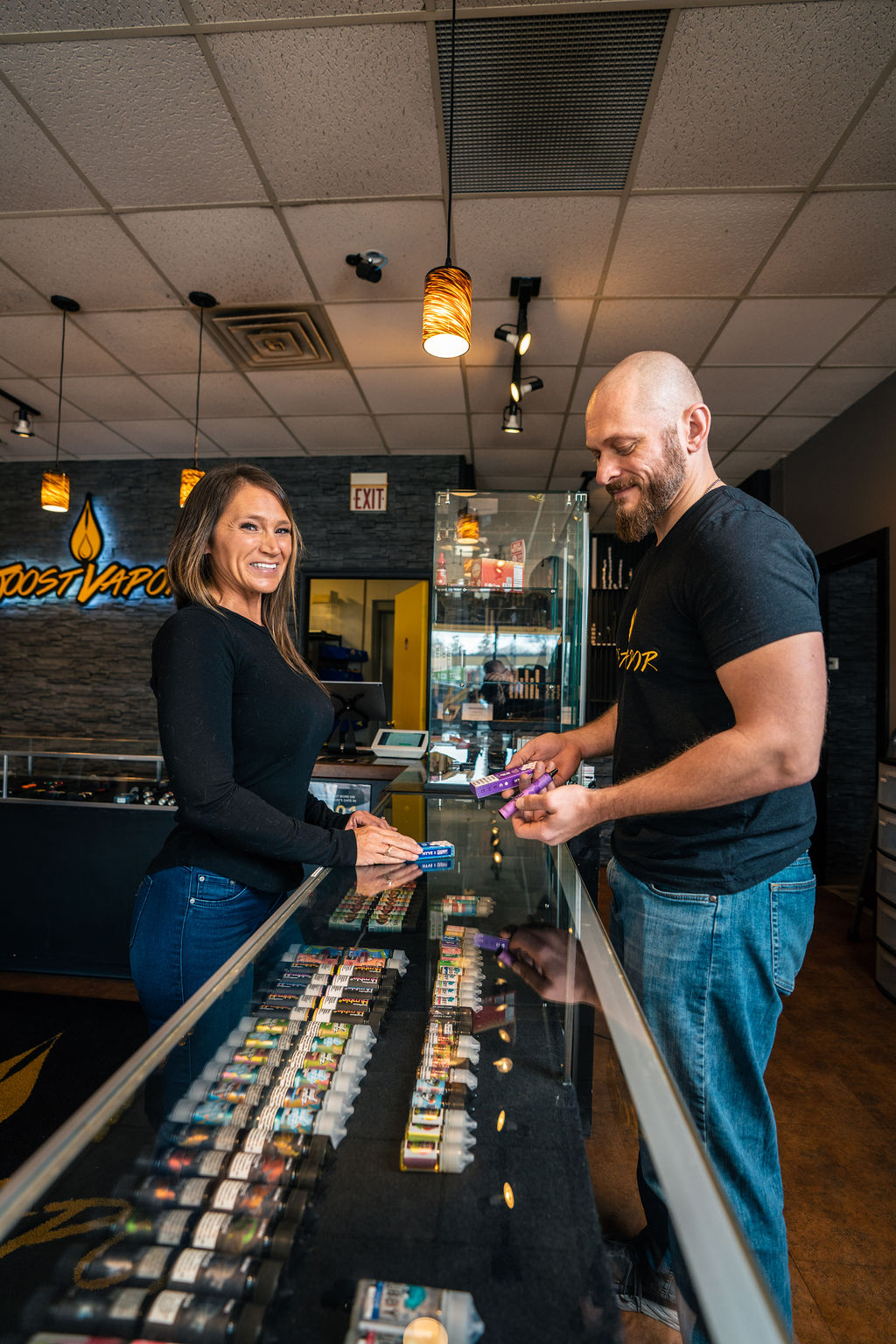 ---
Honestly the best place to get your vape liquid. Hands down. Good service, nice people, cheap vape juice prices.

Jack - Google Review on Joost Vapor 54th
---
Great customer service, incredibly helpful staff, comfortable lounge area, chill tunes playing and they BEAT all competitor's prices. I was really impressed with this place.

Adam - Google Review on Joost Vapor 54th