Visit Our Leading Vape and Smoke Store in Grand Haven, MI
STORE HOURS
Monday – 11:00am – 7:00pm
Tuesday – 11:00am – 7:00pm
Wednesday – 11:00am – 7:00pm
Thursday – 11:00am – 7:00pm
Friday – 11:00am – 7:00pm
Saturday – 11:00am – 7:00pm
Sunday – CLOSED
Visit Our Leading Vape and Smoke Store in Grand Haven, MI
Your Trusted Local Supplier & Smoke Store for the Best Quality Vaping and Smoking Products in Michigan.
Discover Joost Vapor
Greetings from our Grand Haven store located on N Beacon Blvd. We're fully stocked with everything you need for the perfect vaping or smoking experience that suits your taste. Get great deals on the best vaporizers, e-liquids, rebuildables, parts, accessories, e-cigarette starter kits, mods, and much more.
Joost Vapor is the largest independent manufacturer of the highest quality e-liquids in Michigan. Our signature vape juices have been expertly handcrafted and supplied to you in our 11 vape and smoke stores in Michigan. 
We're famous for our helpful and knowledgeable staff who always have the answers to your questions and queries. Get the best up-to-date insider tips and tricks for whether you're a vaping pro or just at the start of your vaping journey. 
Get in touch or stop by our Gand Haven vape shop on N Beacon Blvd to discover the world of Joost Vapor.
[
Contact Us
]
Safe Manufacturing
Do you know what you're vaping? Joost Vapor e-liquids are only ever manufactured in our state-of-the-art ISO 1000 class 6 clean rooms for your safety. You can trust genuine and quality Joost Vapor products every time.
Tobacco Coming Soon!
We are excited to announce that we will also be offering a wide range of premium tobacco in our stores across Michigan! 
Coming to your local Grand Haven store very soon!
Quick Curbside Pick Up
Step 1: Order
Check our menu and call (616) 935-7074 to place your order. Our Grand Haven store staff will have it ready for you.
Step 2: Pick Up
Stop by the store and collect your order.
Step 3: Pay
Settle the payment upon collection with any popular payment method.
Top-Rated Service & Products
We pride ourselves on providing our valued customers with the unbeatable service they deserve. All of our staff are passionate about the world of vaping and are always on hand to offer expert advice. Check out our store's Google reviews!
Our Joost Vapor teams help you find the perfect vape and smoking setup to suit your lifestyle. We have been manufacturing and supplying premium e-liquids across Michigan since 2013 and are excited to innovate and expand every year. 
Store Location
Swing by our Grand Haven smoke store to get great advice from our expert staff and try some new products.
Address: Joost Vapor, 592 N Beacon Blvd, Grand Haven, MI 49417
Call: (616) 935-7074
Email: customerservice@joostvapor.com
Store hours: Monday - Saturday 11 am - 7 pm Sunday closed
Find us: Facebook, Twitter, Google Plus, Pinterest, and Reddit
Joost Vapor Pricing
Don't get stuck with overpriced products from other vape stores in Michigan. We offer the most competitive prices on all of the quality products we supply. 
Take advantage of our exclusive offers and promos by signing up to our elite Joost Vapor Gold Club!
Visit our Premium Smoke Store 
Find out what you could be missing in the world of vape and smoking products. Stop by our store on N Beacon Blvd - our staff are always happy to help!
Explore the possibilities with Joost Vapor.
[
Visit Us
]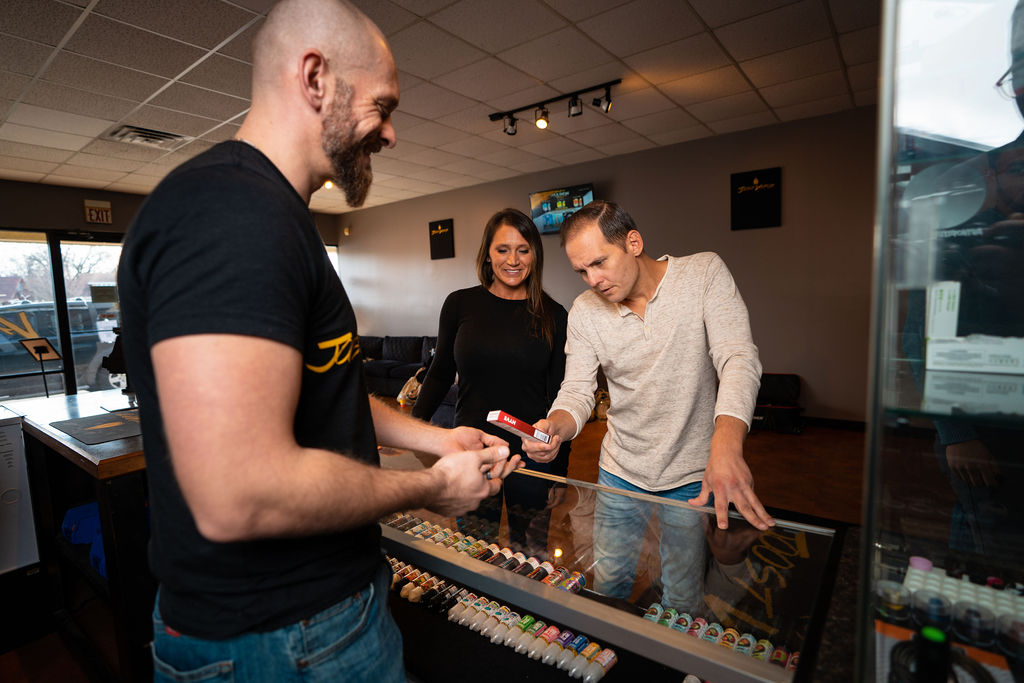 ---
By far my favorite vapor shop to go to. The employees are kind and attentive. Great variety of premium e-cig juice and house blends. The rewards program has helped me save money on several occasions. Highly recommend.

Adam - Google Review on Joost Vapor Grandville
---
Joost vapor of Grand Haven is full of knowledgable and very friendly staff who know the pros and cons of all their equipment. Joost is also the ONLY place I will buy house juice from.

Julian - Google Review on Joost Vapor Grandville