The Premium Independent Vape Shop Near Me Comstock Park, MI
STORE HOURS
Monday – 11:00am – 7:00pm
Tuesday – 11:00am – 7:00pm
Wednesday – 11:00am – 7:00pm
Thursday – 11:00am – 7:00pm
Friday – 11:00am – 7:00pm
Saturday – 11:00am – 7:00pm
Sunday – CLOSED
The Premium Independent Vape Shop Near Me Comstock Park, MI
Your one-stop vape shop in Michigan for the best quality e-liquids, e-cigarettes, and much more. 
This is Joost Vapor
Welcome to one of our 11 Joost Vape shops in the state of Michigan. We are the answer to your 'vape shop near me' search in the Comstock Park area. Discover the world of Michigan's largest independent vape manufacturer and retailer.
We craft the finest e-liquid so you can relax and enjoy the smooth experience of Joost for any kind of e-cigarette and vaporizer. We also supply all the parts, essentials, and accessories for the widest variety of models.
Whether you're a vaping pro or a total beginner, we have the products and expertise to provide you with the best vaping experience. Get in touch or stop by our store to chat with one of our team members. 
[
Get in Touch
]
Smoke Safe
We pride ourselves on ensuring optimum safety for our customers. In the uncertain world of e-liquids, our customers know what they're smoking. We only manufacture the highest-quality vape juice in our state-of-the-art ISO 1000 class 6 clean rooms. 
Joost Vapor is a smoke store you can trust in every product we offer. Make us your go-to vape shop in Comstock Park for your smoking supplies.
Tobacco Coming Soon!
We have an exciting announcement to make! 
Soon we will also be offering our customers a wide selection of excellent quality tobacco products to enjoy too. We will be your fully stocked smoke shop in Comstock Park, Michigan.
Convenient Curbside Pick Up
Step 1: Order
Call (616) 719-1135 and place your order and our staff will get it ready for you.
Step 2: Pick Up
Stop by our Comstock Park store on West River Dr to collect your pre-prepared order.
Step 3: Pay
We accept the usual methods of payment upon pick up. 
5 Star Rated
Our customers across Michigan rate us 5 stars for our excellent customer service and quality products. We have been providing expertly and safely crafted e-liquids in a wide variety of exhilarating flavors to suit every taste since 2013.
We are always innovating and expanding our range of products to suit our customers' needs. Our team looks forward to offering new exciting tobacco products very soon! 
Store Location
Come and visit our friendly and knowledgeable staff and browse our premium vape products.
Address: Joost Vapor, 4640 West River Dr., Comstock Park, MI 49321
Call: (616) 719-1135
Email: customerservice@joostvapor.com
Store hours: Monday - Saturday 11 am - 7 pm Sunday closed
Find us: Facebook, Twitter, Google Plus, Pinterest, and Reddit
Joost Vapor Pricing
We offer competitive pricing on e-liquids, tanks, pods, mods, and much more to give you the best value for money. Unlike some vape shops in Michigan, we do not overprice our products. Just great quality for fair prices.
Join the Joost Vapor Gold Club to receive exclusive offers and promotions!
Your Favourite Vaporizer Store
Stop by our store in Comstock Park and meet our knowledgeable team. We are always happy to answer any of your questions and offer expert insider advice. 
Make the most of our extensive variety of the best vape products for you to enjoy. 
[
Find the Joost Vape Shop Near Me
]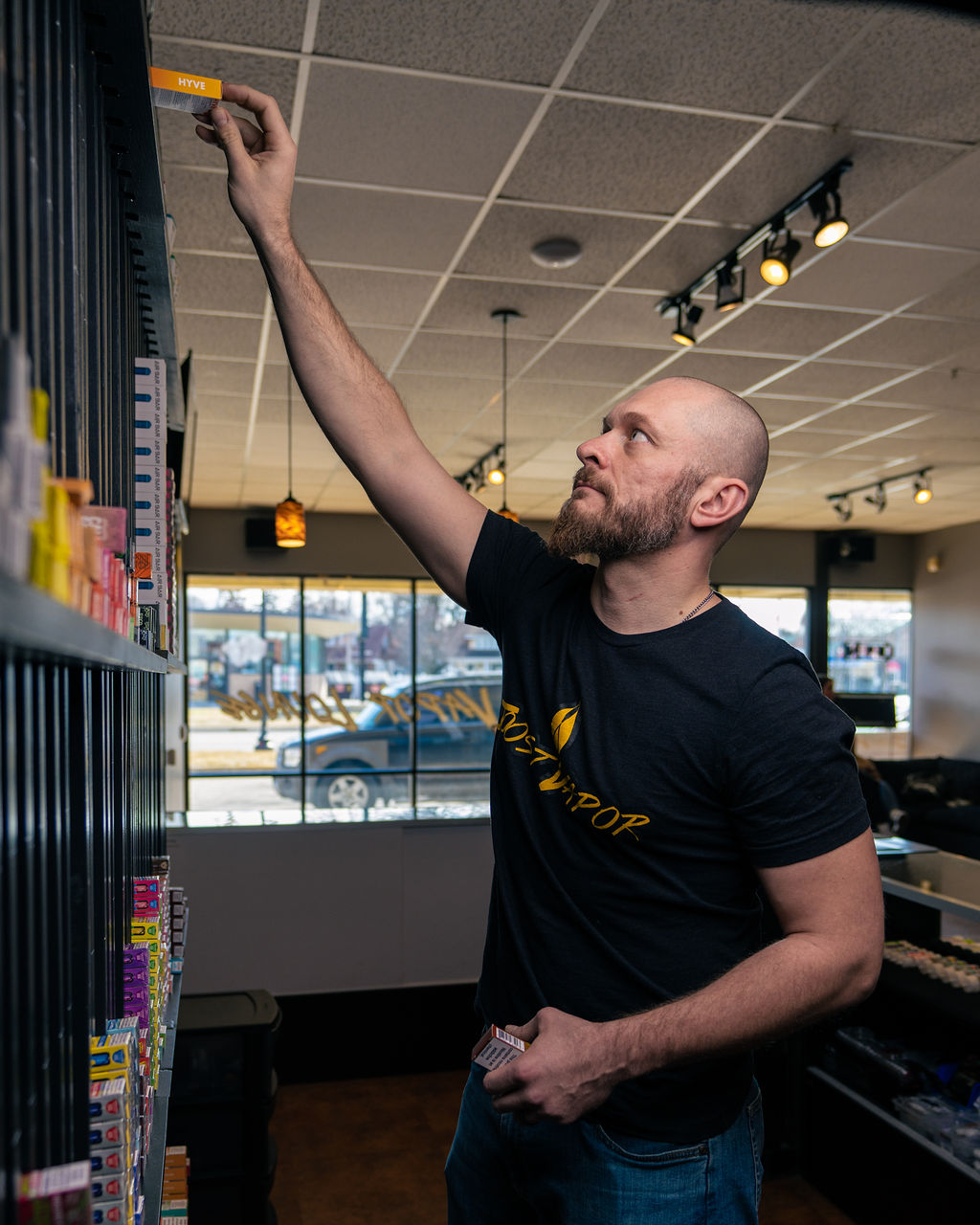 ---
Great staff, great selection, great atmosphere, AND they support Military. Thank you so much! Can't wait to stop in soon for more! Seriously one of the absolute best places around Grand Rapids to buy vape stuff.

Kira - Google Review on Joost Vapor Comstock Park
---
Excellent service and products. The man who was there was very knowledgeable and helpful. I got two mods and I love them both. Good house joose

Chirs - Google Review on Joost Vapor Comstock Park